One great thing about living in Ranthambhore is that you end up meeting some of the best nature photographers in the world. I have been fortunate and have worked with some of the biggest names in nature photography. The best time I have ever had – fun and learning – was the two months or so that I spent with Andy Rouse this year.
About a year ago I got a mail from Andy. I don't know how he got my contact. In the mail he mentioned that he was coming to India to shoot and was vaguely interested in coming to Ranthambhore. He had asked me a few very "tricky" questions about shooting conditions in Ranthambhore basically to test if I knew what I was talking about or not. Apparently I passed the test. I doubt if he would have come to Ranthambhore if I had failed. We exchanged a few zillion mails before he finally came down in March with Tracey Rich.
Just a few months before he came down to India he had changed his entire equipment from Canon to Nikon. He was carrying 2 Nikon D3s (probably the most awesome 35 mm format DSLR that I have seen) and four lenses. His main gear was the D3 with a 200 to 400 mm Vibration Reduction lens – which I would rate as the best gear for shooting tigers. One of these days the Bill Gates foundation is going to send me a lot of money (apparently they help out the under privileged a lot) and I am going to buy this gear.
The three of us – Andy, Tracey and I – spent a week in Ranthambhore in the middle of March. We had the best tiger driver in the world – Salim Ali – who is a naturalist in Ranthambhore but had been driving a jeep here for over 20 years before he became a naturalist. He has helped make about 10 wildlife documentaries and understands Ranthambhore (besides a dozen more wildlife areas in India) better than anyone alive. And boy did we have a blast. Andy shoots amazingly well, so he obviously got some mind-blowing pictures. But what was more surprising was that me – Aditya Singh – with my humble gear and limited experience ended up getting many pictures that were in focus. He taught me how to pan – I mean he taught me but I still have not learnt it as yet. I routinely miss getting the subject in frame, keep crashing my lens against whatever is nearby etc etc – basically keep messing up. However, I have promised Tracey that one day my panning shot of a "tiger chasing a deer" is going to win the BBC wildlife photographer of the year award. One day – hopefully within this century.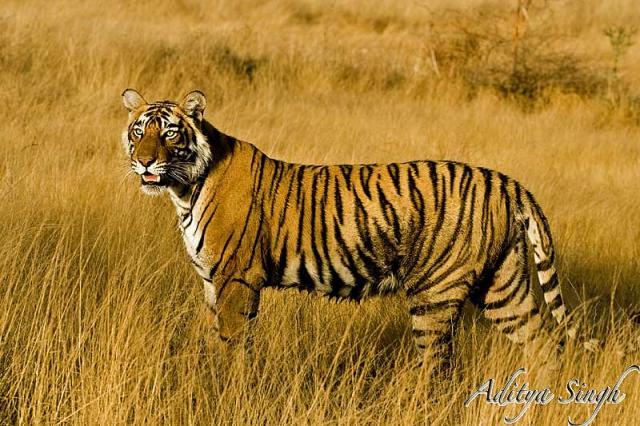 Besides panning they also taught me one more really important thing – that is – to delete, delete, delete. Sorry I meant edit, edit, edit but for guys like me delete and edit is generally speaking the same thing. Just before I met Andy Rouse, I had two 500 Gigabyte hard drives that were full of RAW images. Now I am planning to sell both of them because all the decent pictures that I have will fit in a 4 Gigabyte CF card. (Anyone interested in buying two 500 GB Lacie hard drive can drop me a mail – I will sell them cheap).
There were a few things that we taught Mr. Andy Rouse (or Sandy Grouse, as we called him). One was how to do some serious beer drinking – from sunrise to sunset. If you check his profile on facebook, you will find a picture of him all painted up and slightly (actually seriously) drunk on Kingfisher beer. Guess who took that picture and guess who opened all those 20 bottles of beer – yes sir you got it right (that's if you got Dicky Singh as the answer). That was on Holi (the Hindu festival of colours – as you would have guessed both Salim and I are great Hindus). That afternoon Tracey and Poonam (my wife – in case you did not know that – you moreons) were the only two sober people at The Ranthambhore Bagh. Salim claims that he was sober but Tracey did not think so, specially after he almost crashed the jeep a dozen times in the afternoon safari.
After a week in Ranthambhore, Tracey, Andy and I left for Kaziranga in Assam. Kaziranga was good but not a patch on Ranthambhore – nothing is a patch on Ranthambhore, when it is rocking and believe me Ranthambhore was rocking in March. Machali – the tigress who is the lady of the lakes – and her three nearly full grown female cubs were at their best.
Tracey and Andy went off to Bandhavgarh after a few days in Kaziranga, while I stayed on for another week. I had hooked up with Nik Devasar and some cool friends from the Delhi Bird Club but that's for another post.
Towards the end of April Andy came back to Ranthambhore for another few weeks. Tracey had gone back to UK, even though I had offered her a job as the "Honorary Bar Tender" at The Ranthambhore Bagh. This time it was my study time. Andy taught me a lot of amazing things about photography. Unfortunately I can't tell you about them since they are classified. But yes delete, delete, delete in one of them.
There are two amazing things I have to tell you about that happened in his "second coming". One was that we finished digging three wells and their associated waterholes in Indala. Thanks to Paramo / Andy Rouse / and a few of my other friends (see my post on Indala). The picture below was taken when one of the wells sprouted for the first time (the good looking guy is me) and that night a male tiger spent the whole night in the water hole.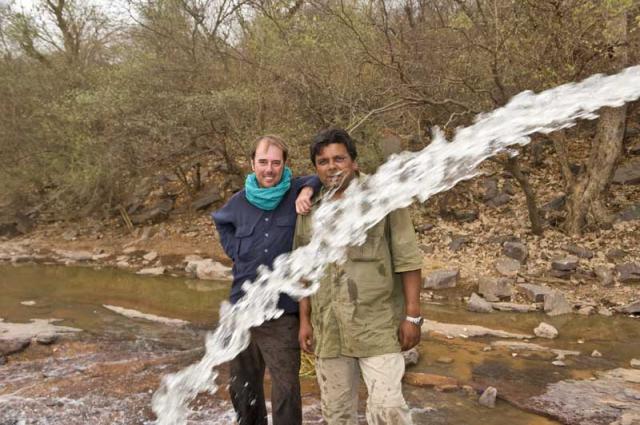 The second one was a friend of Andy's – I can't tell you his name – that's classified too. A few hints – he is big (horizontally), loves his beer (that probably describes every second man in UK) and the big clue is that if you buy a greeting card in UK, chances are that you have made him some money. I hope you read this Mr. Big Man. Andy has threatened to be back soon. I still have to teach him how to drink Old Monk rum and I have another 4 GB card to fill. Delete, delete, delete. Did I learn anything – that's for you to guess? All the pictures posted here were taken with Mr. Sandy Grouse, except for the one of me below. Andy took this one and I think it makes me look good. ?